Dear Customer,
For many years we have offered wash books in our Soft Cloth Automatic Car Wash and VIP Coupons in our 24 hour Touchless Car Wash for customers wanting to save money by purchasing washes in advance.
Now, thanks to advances in technology, we are able to offer a different choice with many more advanced features for your convenience and saving.
Introducing WASHCARD!
WASHCARDS are accepted in our Soft Cloth and Touchless Automatic Car Washes and our Self-Service Wash Bays.
Cannot be combined with any other form of payment.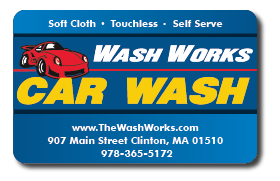 More convenient purchasing options:
WASHCARDS can be purchased on-site from car wash attendant during normal business hours for our Soft Cloth Automatic Car Wash or 24 hours a day from our WASHCARD Card Dispenser located in our vending area and online on our website www.TheWashWorks.com
More services available:
WASHCARDS, unlike wash books or coupons, allow you to choose any wash in our Soft Cloth Automatic or 24 hour Touchless Car Wash or time in our Self-Service Wash Bays.
Security and Accountability:
By registering your WASHCARD on our website, you can protect your WASHCARD balance from loss or theft. Simply report a card lost or stolen and we will promptly cancel that card and reissue you a new one with the last available balance for no additional charge.
You will also receive, via e-mail, monthly reports detailing all of your wash card purchases and low balance reminders ensuring that you always have enough value on your card to enjoy the convenience and savings that WASHCARD offers.
Special Offers:
As a registered WASHCARD Customer, you will be sent e-mail updates as new services or special limited time offers become available.
Savings:
When you purchase or add value to your WASHCARD, we add up to 25% Bonus Value to your card!
Ask attendant or go to "Buy Wash Card" and "Card Dispenser" on this website to discover the many purchase options available.
Convenience:
WASHCARDS are currently available for purchase from car wash attendant and online at www.thewashworks.com
Now also available through our WASHCARD Dispenser located in our vending area.